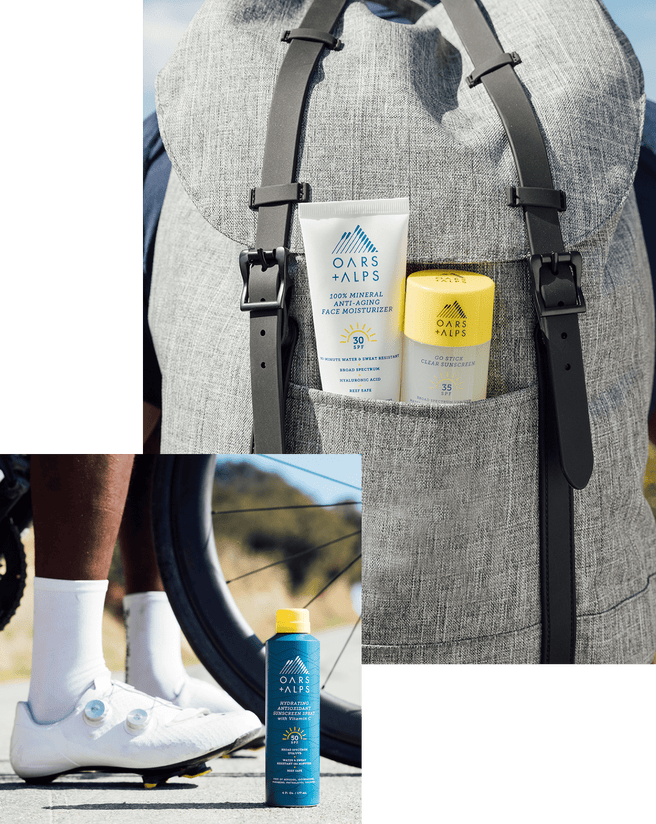 Sunscreen Active Ingredients 101
There are two types of sunscreen that protect your skin from the sun's harmful UV rays: mineral and chemical. Sunscreens made with mineral ingredients deflect UV rays like a shield, while chemical sunscreens get absorbed into the skin and convert UV rays into heat. Our SPF formulas use one or both types of sunscreen along with extra doses of hydrating, anti-aging and antioxidant ingredients to help your skin stay healthy and resilient as you enjoy being outside.
86% of melanomas can be attributed to UV radiation from the sun, yet only 14% of men
use SPF on their face and body when in the sun for an hour or more.
How Sunscreen Ingredients Should Help Your Skin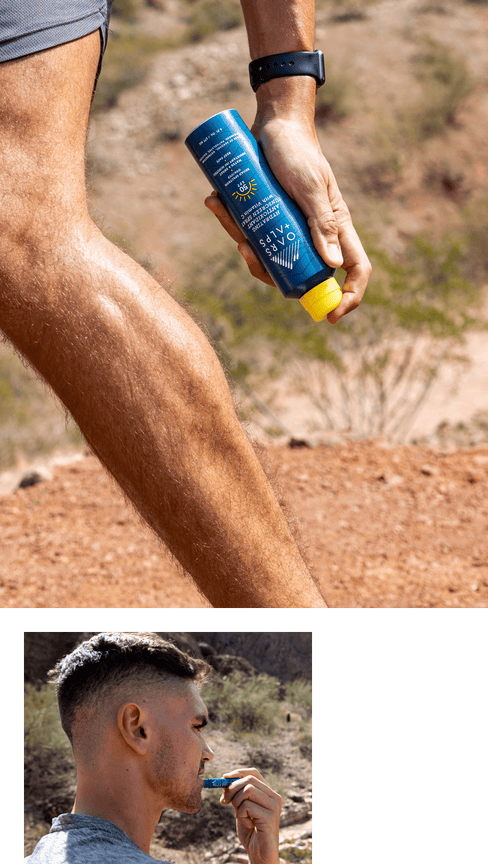 1.
Provide Broad Spectrum UV Protection
Sunlight contains two kinds of ultraviolet rays: UVA and UVB. You need protection from both, and sunscreens that provide that are called broad spectrum. UVA and UVB rays damage your skin, leading to things like sunburn, inflammation, wrinkles, sagging, dark spots and skin cancer.

Having five or more sunburns doubles your chances of developing melanoma. It's incredibly important to stop as much radiation from the sun as possible before it can damage your skin's DNA and potentially lead to skin cancer.
How do I know if my SPF is broad spectrum?
Check the label. It should clearly say "broad-spectrum SPF" so you know you'll be covered against both kinds of UV radiation. All Oars + Alps' sunscreens provide broad-spectrum protection.
What ingredients are in broad spectrum sunscreen?
Broad spectrum sunscreens can have a wide variety of ingredients. However, beware of products that contain potentially harmful ingredients. At Oars + Alps, we never use Oxybenzone or Octinoxate, which can disrupt your hormonal balance and are harmful to marine life. We only use clean, safe sunscreens (both mineral and chemical) with hydrating, skin-boosting ingredients to heal and protect.
2.
Fit Easily In Your Daily Routine
Even when it's overcast, your skin still absorbs up to 80% of the sun's UV rays. That's why doctors recommend you wear it every day. But who wants to apply traditional SPF day after day? It can be sticky, greasy, and has a smell that doesn't work beyond the beach.

That's why we make formulas that feel good on the skin and have additional benefits like hydration and anti-aging. It's also why we design different formats for scenarios you're likely to be in.
What is a good SPF for daily use?
The best SPF for daily use depends on your skin and your SPF preferences, but it's also the one that's the easiest to work into your daily routine. Our Anti-Aging Face Moisturizer with SPF is both a moisturizer and sunscreen, so it cuts down the steps in your morning routine. If you prefer mineral sunscreen, try our 100% Mineral Anti-Aging Face Moisturizer with SPF 30. If you're on-the-go, our Go Stick is a spill-free, portable option that's clear so you don't have to rub it in. For the body, try our easy-to-apply Hydrating Antioxidant SPF 50 Spray.
What ingredients should I look for in daily-use sunscreen?
To make an SPF right for everyday use, it should help your skin feel and look good. Look for ingredients that put moisture first, like cooling Aloe Leaf Extract and Hyaluronic Acid, which can hold more than 1000 times its weight in moisture and help drive it deep into skin.

Other helpful ingredients include Jojoba and Sunflower Oils that minimize the skin-drying effects of the sun by locking in moisture. Vitamin E is another great one, which doubles as an antioxidant. Luckily, you'll find all of these ingredients in our SPF Essentials line.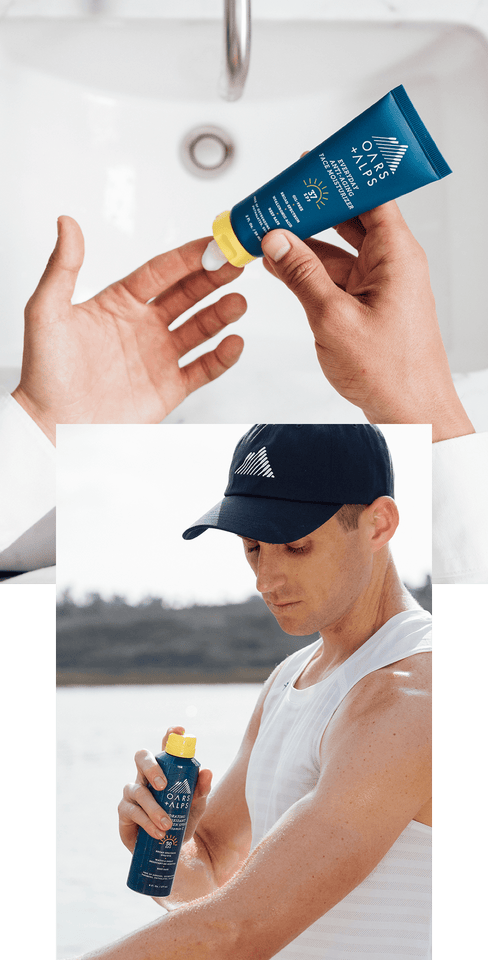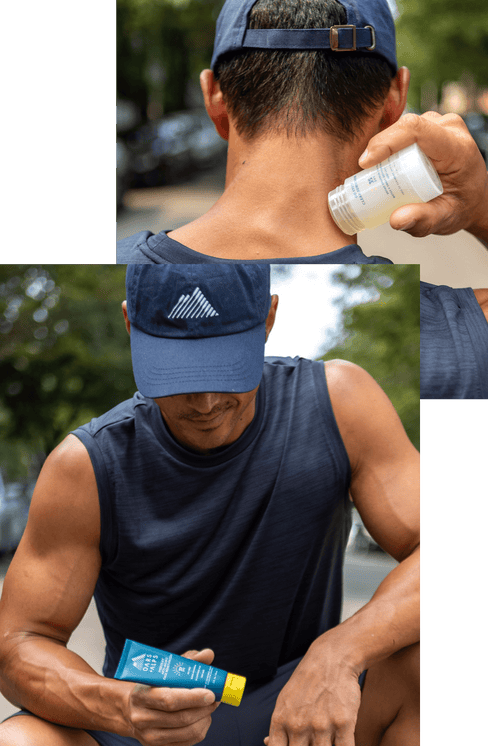 3.
Moisturize + Strengthen Skin While It Protects
Sunscreen's main purpose is to defend you from sun damage. But what if your sunscreen could do more? We believe it should. By boosting formulas with ingredients that combat dryness, help prevent premature signs of aging, soothe, and heal, our sunscreens support your skin's overall health.
What is a good sunscreen moisturizer?
Sunscreen moisturizer is a daily product made for the face. It has the look and feel of a moisturizer, plus powerful SPF properties. It shouldn't be sticky or greasy, and it should absorb quickly.

Our Everyday Anti-Aging Face Moisturizer with SPF 37 works triple duty with hydrating, anti-aging and sunscreen ingredients. If you're looking for a mineral sunscreen moisturizer that reflects the sun's rays, try our 100% Mineral Anti-Aging Face Moisturizer with SPF 30.
What ingredients should I look for in sunscreen moisturizer?
Look for active ingredients that keep skin healthy and protect it from harsh UV rays. Zinc Oxide and Avobenzone are among the most common—and safest—ingredients you'll find. A good sunscreen moisturizer should also have nourishing ingredients like antioxidant Alpine Caribou Moss™ and hydrating Olive Leaf Extract.
4.
Stand Up to Your Activities
For sunscreen to be effective, it has to stay on your skin even on your most active days. That's why we've included ingredients in our products that resist sweat and water. Look for sunscreens that can protect your skin for up to 80 minutes.
What makes sunscreen sweat resistant?
Sunscreen becomes sweat resistant in a number of ways. By adding film formers, the products resist slipping and sliding so the product stays on your skin even when it comes into contact with water or sweat.
What ingredients should I look for in sweat-resistant sunscreen?
If you want a water-resistant formula, check the back of your bottles for Methyl Dihydroabietate, and VA/Butyl Maleate/Isobornyl Acrylate Copolymer, as well as other waxes, oils, and gelling agents. You might also find ingredients like Hydrolyzed Wheat Protein/PVP Crosspolymer, VP/Hexadecene Copolymer, or VA/Butyl Maleate/Isobornyl Acrylate Copolymer. They're there to help prevent the product from washing off while you workout or take a dip.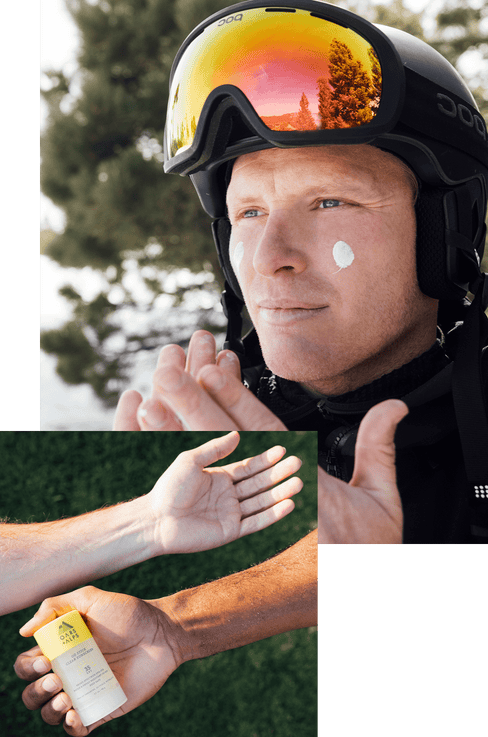 Our Powerful, Clean Ingredients
Activated Charcoal

Absorbs impurities up to
200x its weight and helps
prevent acne. Also
functions as an exfoliant.

Aloe Vera

Soothes and hydrates skin
without clogging pores.

Alpine Caribou Moss™

Reduces the effect of aging
and guards against pollution
and other stressors. Featured
in nearly all of our products.

Amazonian Clay

Helps remove
impurities from skin.

Coconut-Derived Surfactants

Break down oils and fats
without stripping the skin
of its natural moisture.

Corn Starch

Wicks away moisture (i.e. sweat) and keeps your skin feeling smooth, dry and comfortable

Jojoba Oil

Prevents harmful, acne-causing bacteria growth. Softens dry and irritating spots and restores skin to a balanced condition.

Juniper Berries

Mildly buff away dead skin
cells and provide ultimate
cleanliness.

Larch Tree Extract

Creates a barrier on the skin to help lock in moisture.

Safflower

Non-irritating ingredient that prompts skin to retain moisture, while removing dirt and oil. Lends
skin a healthy glow and reduces the appearance of wrinkles.

Shea Butter

Helps tissue cell regeneration, softens skin and boosts collagen production. Penetrates deep into skin to moisturize and prevent windburn, sunburn and dry, cracked skin.

Vitamin B5

Moisturizes, soothes, heals and regenerates the skin.

Vitamin E

Blocks free radicals—a major factor in aging—from the body. Helps reduce appearance of wrinkles and keeps skin looking youthful.

Volcanic Sand

Deeply exfoliates skin while restoring skin vibrancy. Stimulates blood circulation.

Witch Hazel

Removes excess oil
from skin while locking in moisture.

Blueberry Extract

Filled with antioxidants that protect the skin from free radicals which contribute to signs of aging
Ingredients
To Avoid In


Skincare Products

If you see these on the back of a label, try one of
our thoughtfully-formulated products instead.
Benzalkonium
Chloride

Disinfectant used as a preservative. Associated with severe skin, eye and respiratory irritation and allergies.

Typically found in: lipsticks, moisturizers,
diaper creams, and other cosmetics.

Coal Tar

Byproduct of coal
processing that adds color
and prevents dandruff.
Known carcinogen.

Typically found in: hair
dye, shampoo.

Ethylenediaminetetraacetic
Acid (EDTA)

Disinfectant used as a preservative. Associated with severe skin, eye and respiratory irritation and allergies.

Typically found in: lipsticks, moisturizers,
diaper creams, and other cosmetics.

Ethanolamines
(MEA/DEA/TEA)

Surfactants and pH adjusters.
Linked to allergies, skin toxicity,
hormone disruption and inhibited
fetal brain development.

Typically found in: hair dyes, mascara,
foundation, fragrances, sunscreens, dry
cleaning solvents, paint, pharmaceuticals.

Formaldehyde

Preservative in cosmetics—look for
quaternium-15, DMDM hydantoin, imidazolidinyl urea and several other preservatives. A known carcinogen that is also linked to asthma, neurotoxicity and developmental toxicity.

Typically found in: shampoo,
body wash, bubble bath.

Hydroquinone

Skin-lightening chemical
that inhibits the production
of melanin. Linked to
cancer, organ toxicity and
skin irritation.

Typically found in: skin-
lightening creams.

Methylisothiazolinone and
Methylchloroisothiazolinone

Chemical preservatives.
Among the most common
irritants, sensitizers and
causes of contact skin
allergies.

Typically found in: shampoo,
conditioner, body wash.

Oxybenzone

Sunscreen agent and
ultraviolet light absorber.
Linked to irritation,
sensitization and allergies
and possible hormone disruption.

Typically found in:
sunscreen, moisturizers.

Parabens (methyl-, isobutyl-,
propyl- and others)

Class of preservatives
commonly used to prevent the
growth of bacteria and mold.
Hormone disruptors, which
may alter important hormone
mechanisms in our bodies.

Typically found in: synthetic fragrance, nail polish, hairspray, and plastic materials.

Phthalates (DBP, DEHP,
DEP and others)

Class of plasticizing chemicals
used to make products more
pliable or to make fragrances
stick to skin. Believed to disrupt the endocrine system and may cause birth defects.

Typically found in: synthetic fragrance, nail polish, hairspray, and plastic materials.

Retinyl Palmitate and
Retinol (Vitamin A)

Nutrient that may damage
DNA and speed the growth of
skin tumors when used
topically.

Typically found in: moisturizers, anti-aging skincare.

Sodium Lauryl Sulfate
and Sodium Laureth
Sulfate (SLS and SLES)

Surfactants that can cause
skin irritation or trigger
allergies.

Typically found in: shampoo, body wash, bubble bath.

Triclosan and
Triclocarban

Antimicrobial pesticides toxic
to the aquatic environment.
May also impact human
reproductive systems.

Typically found in: lipsticks, moisturizers, diaper creams, and other cosmetics.